The faithful reader knows I loved my nike+ setup. I used my wife's iPod and bought not the shoes but a contraption that would hold the transmitter. Shoes were either ugly or too expensive. Often I complained about nike+ working on iPod Touch but not iPhone, but no longer.
My new favorite toy is the iPhone application Runkeeper (website, app store link). It basically does the same thing nike+ does: record data about your run and you can share it, too.
Here is how that looks on the iPhone: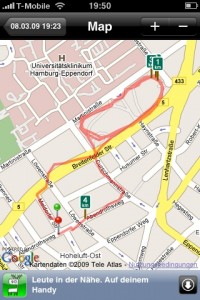 You should turn off Wifi for the run, but aside from that it works like a charm. I started the playlist before launching the app and thanks to "two taps on home key open iPod"-settings, I could maneuver through songs I didn't feel like with ease. I am actually pretty close to purchasing the premium app because the ads at the bottom confuse me…
I also like the fact that the devoloper is super reachable via Twitter and always answers all questions.
Naturally, there is a blog, too, and Jason offers great insight into Building a Startup in this Economy. I still find it very interesting that Apple would feature Runkeeper in it's ads, since I believe Runkeeper is essentially a competitor, but what do I know.
I'd like to see more widgets, for example one that shares the workout history so that I wouldn't have to bore the readers of this blog with a post about every workout, but I that may come (and I might share each run anyway).
Comparing the last few workouts this month to the last time I used the nike+ set (about a year ago), I am still very slow, but I'll be getting there.
In conclusion, I holeheartedly recommend Runkeeper to track your runs. Just think about whether you want to share your location before you transmit it, but that will be the topic of a follow-up post.