I had originally planned to interview Neal Morse and Mike Portnoy for Backstage in Hamburg but my request wasn't even answered. So I changed plans, spent the afternoon with the kids, arranged with the neighbors to take the baby monitor once they were asleep and then headed to the Markthalle.
I did catch the last two songs by The Flower Kings and with the little time they had they have intrigued my interest. I will definitely revisit and spent some time with their albums on spotify.
I had seen Neal Morse only twice before: with Transatlantic 10 years ago and with Flying Colors last September but spent lots of time listening to Testimony 2 and the new album Momentum as well as the newest Transatlantic release plus of course the Flying Color album. To make the story short: I think his style of composition is marvellous and his music has – at least for me – the perfect mix of rock grooves and catchy melody lines. On most songs you can join in humming the chorus after one listen and realize they have already crept deep into your melodic memory. It's uncanny really, especially adding in the fact that the lyrics are sometimes not the easiest to digest or accept.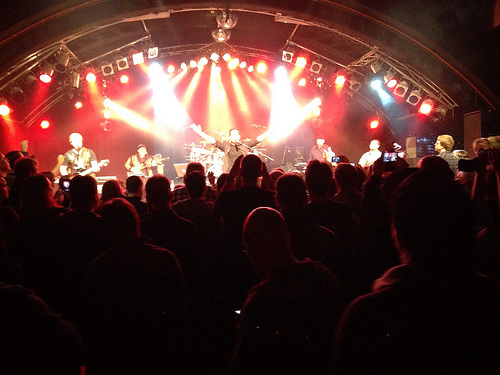 (as always I took many bad pictures, you can find them on flickr)
From the opening sequence of Momentum it was obvious that Morse and his band – Mike Portnoy on drums, Randy George on bass plus the YouTube-found threesome of Bill Hubauer on keyboards, violin, saxophone and vocals, Eric Gilette on keyboards, guitars and vocals and last but not least Adson Sondre on guitars and vocals – were there to have fun and had no place else to be. How refreshing when everybody brings the energy, his A-game and is totally in the moment. I had watched parts of the Momentum live DVD ahead of the concert and was fascinated by Morse's openness, gratefulness and the moment of pure emotion when he had to wipe away some tears after a song had ended. On Monday there were some close calls but the whole experience showcased that he chooses to be a musician 100%. And the audience thanked him and the band for this attitude, singing along, rocking along, knowing the music and it's nuances. Weathering Sky's epic chorus made it into every last corner of the room and people were very happy to hear Thoughts Pt 5.
Advertised was 1.5 hrs Flower Kings, 1.5 hrs Neal Morse and 30 minutes Transatlantic. Neal Morse's setlist (linked is Cologne but HH was very similar I think) was heavy on the new album and the arrangeur Morse took full advantage of the versatility of his band in order to bring the album sounds to life, from 5-6 voices on Author of Confusion to slide guitar to Dregs-ish feelings when Bubauer brought out the violin. Every musician had a little solo spot as well, so it was a real band effort. I am not the die-hard Morse fan so I admit there was one part in the program where I wouldn't have minded two shorter songs instead of the World without End Suite from the new album but that is really petty whining – I enjoyed all the melodies immensely, Morse is right there between the Beatles and Frank Zappa. No kidding!
A lot could be said about the Morse/Portnoy partnership, I think this picture of the two says enough.
GREAT MP & @nealmorse pic!! Worth a thousand words —> twitter.com/MikePortnoy/st…

— Mike Portnoy (@MikePortnoy) March 1, 2013

In my book the song Momentum is in a way a little bit about Portnoy…
And in case you are a guitarist like me and were wondering: Adson Sondre played wonderfully, playing Paul Gilbert's solo in Momentum with ease and a smile.
The Transatlantic encore did surprise some parts of the audience and turned into a great party – aside from the Flower Kings' keyboarder, all musicians were on stage at one point and they had a great song selection covering all studio releases.
A lot of notes, for sure, but again, few composers in today's music have the ability to write hook lines as catchy as Neal Morse. If you get the chance, go watch him and the band for a great live show.