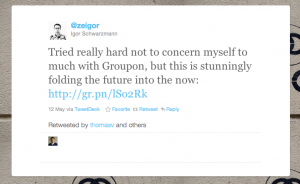 Igor schätzt die Groupon App als wegweisend ein, spätestens jetzt sollte man sich mal mit dem Thema befassen. Zwar bin ich erst seit dieser Woche zahlender Groupon-Kunde (den Brillen-Deal konnte ich mir nicht entgehen lassen, 100 EUR für 10 EUR), aber über Groupon Now habe ich schon einmal geschrieben. Interessanterweise heißt die App zwar Groupon Now, verfügt aber noch nicht über die beiden angekündigten Features "bored" und "hungry". Dies kann entweder mit dem mangelnden Netz an teilnehmenden Restaurants in Deutschland liegen oder daran, dass man im ersten Schritt mit der App noch mehr Kunden gewinnen will. Und mal ehrlich, wer kann denn bei diesen Deals schon "nein" sagen. Das Prinzip ist das gleiche wie bei den Gutscheinheften für 30 Euro – die meisten der Gutscheine werden nicht eingelöst, allein deshalb lohnt sich das Geschäft.
Und während Groupon in den USA 30% der ausgegebenen Gutscheinsumme kassiert (auch von den nicht eingelösten), sehen Deals in Europa wohl so aus, dass die nicht eingelöste Summe komplett bei Groupon bleibt (Link zu Gawker, weil der WSJ-Artikel nur für Abonnenten ist):
In America, a typical Groupon deal would be this: your business sells, for example, 300 coupons at $50 each, for a total of $15,000; Groupon takes a 30% cut, $4,500, and the business gets the rest of the money. If any customers fail to redeem their coupons, well, too bad for them.

But in Europe, the WSJ reports, the deal for businesses is even worse—because Groupon keeps 100% of the money from any coupons that don't get redeemed. In other words, if you buy that $50 coupon to Store X and forget to use it, Store X doesn't see a penny of that money; Groupon gets all of it.
Die Frage, ob die Konsumenten jetzt aus Rücksicht auf die Unternehmen mit Boykott reagieren sollen, stelle ich jetzt nicht, ein jedes Unternehmen kennt die Bedingungen vorher.
Vielmehr bin ich schon jetzt auf dezidiert Zahlen aus Deutschland gespannt, und sobald dann die beiden noch fehlenden Features integriert sind, auf den Wachstumssprung – es mögen nicht viele Leute "I'm bored" klicken, aber "I'm hungry" wird insbesondere an Flughäfen und Bahnhöfen sehr gut funktionieren.