Vor einigen Wochen habe ich beim Trial der Lift App mitgemacht, die jetzt offiziell über Lift.do zu erreichen ist.
Das Ziel ist nicht neu: Die App soll Nutzern dabei helfen, neue Gewohnheiten zu entwickeln, diese Tracken und motivieren, durchzuhalten. Diese Gewohnheiten kann man aus einer Liste der üblichen "Neujahrsresolutionen" auswählen, oder selbst eigene ergänzen. Meine Liste sieht so aus: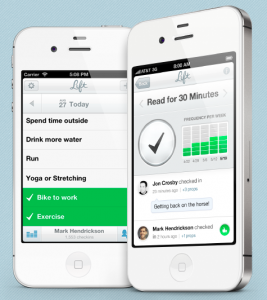 Sleep 7 hours, sleep 8 hours, aerobics, stretch in the morning, no Red Bull, lift weights, crunches, don't smoke
Das sind nun Dinge, die ich nie alle an einem Tag mache, aber im Moment gelingt es mir zumindest, jeden Tag eins, manchmal auch zwei abzuhaken. Das mit dem Motivieren via App klappt noch nicht so ganz 100%ig, das wissen die Entwickler auch, aber irgendwie hat die App eine gute Mischung aus Simplizität und Email-Reminder, die mich oft genug daran erinnert, mein Pensum zu erledigen, bzw. eine Sache noch schnell in den Tag zu schieben.
One to watch.