Die Qualität der Beiträge von W&V und Lead Digital ist zurzeit echt peinlich. Und damit meine ich nicht mal die Tatsache, dass im letzten Jahr Facebook runter geschrieben wurde und jetzt die Facebook-Werbebudgets steigen und deshalb entsprechend jeder CEO ein Statement zum neuen Agenturfokus geben darf.
Vielmehr stört mich, dass im Moment Texte online gehen, die falsche Daten enthalten, grottenschlecht übersetzt sind oder einfach nur inhaltlos sind. Beispiele?
W&V Digital: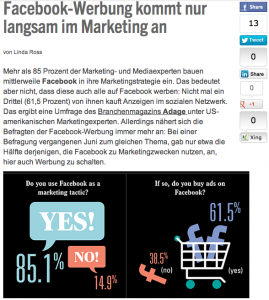 61,5% sind also weniger als ein Drittel? Ein Blick auf die eingebundene Grafik hätte geholfen.
Weiter im Text: "Außerdem erwartet mittlerweile die Hälfte der Befragten, dass sein Facebook-Marketing-Budget im kommenden Jahr steigen wird." Grammatik? Autocorrect?
Nächstes Beispiel von heute:

Schöne Headline, oder? Sie hat Daten ausgewertet, mit Sicherheit nicht nur eine Variable. Aber mit "auswerten" oder "überprüfen" ist das natürlich eine Non-Story. Nein, Kontrolle, Big Brother und als optischen Gegenpol noch das hübsche Gesicht, Bingo, Page Views.
Und neulich, ich glaube bei Lead-Digital:
"Yahoo konzentriert sich auf mobile Apps" als Übersetzung von "Yahoo to concentrate on 6-12 Apps (shutting down the rest)".
Oder die großartige Studie, in der vom Facebook-Überdruss die Rede war, mit wochenlangen Auszeiten. Da bestand die Menge der Befragten aus ganzen 316 Personen! Aber Hauptsache die Überschrift stimmt und die Leute klicken und leiten weiter.
Ja leitet denn keiner die Praktikanten an, die da offensichtlich am Werke sind? Berichten jetzt die Praktis in den Branchenblattredaktionen über die Praktikanten in den Agenturen? Diese Artikel werden gelesen und weitergeleitet, da wäre es schon schön, wenn man nicht erst noch mit dem Rotstift ran muss. Wo bleibt der Anspruch an Qualität, geschweige denn Qualitätsjournalismus?