I just updated my Twitter background image to this years shelf. In other words from one pile (list)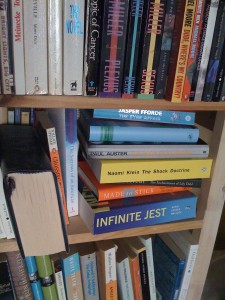 to a new pile.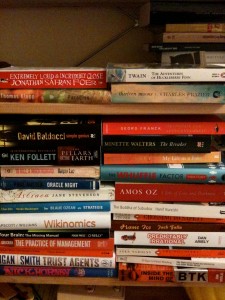 Sir Richard Branson – Business Stripped Bare (Kindle for iPhone)
David Foster Wallace – Infinite Jest
Paul Auster – Invisible
PLI/Abby Marks Beale – 10 Days to faster Reading
David Baldacci – Simple Genius
Paul Auster – Oracle Night
Dan Ariely – Predictably Irrational
Wallace Stegner – Crossing to Safety
Halberstam – The Best and the Brightest
Tara Hunt – The Whuffie Factor
Jasper Fforde – Eyre Affair
Georg Franck – Die Ökonomie der Aufmerksamkeit
Thomas Klupp – Paradiso
Nick Hornby – Juliet Naked
W. Chan Kim and Renée Mauborgne – Blue Ocean Strategy
Siri Hustvest – Enchantment of Lily Dahl
Chris Brogan/Julien Smith – Trust Agents
Peter Carey – My life as a fake
Mark Twain – The Adventures of Huckleberry Finn
Amoz Oz – A Tale of Love and Darkness
Peter Drucker – The Practice of Management
Jack Falla – Home Ice
Dan Tapscott – Wikinomics
Sten Nadolny – Discovery of Slowliness
Minette Walters – The Breaker
Ken Follett – Pillars of the Earth
O'Reilly – Your Brain: The Missing Manual
Charles Frazier – Thirteen Moons
Harper Lee – To Kill a Mockingbird
Hanif Kureishi – The Buddha of Suburbia
Jonathan Safran Foer – Extremely Loud & Incredibly Close
John Douglas – Inside the Mind of BTK
It's a bit different from last year though since quite a lot of books are of the "I really should"-category as a result of simple space issues. You see, Where last years shelf was now is this: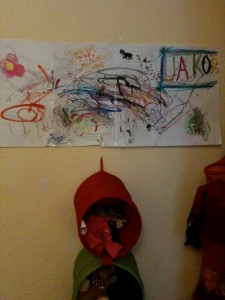 The kids needed more room. Hence I went for "better safe than sorry". I predict that as last year, 10 books not yet on the list will get read, the new Jack Reacher paperback comes to mind or C.C. Chapman's book once it's published. In addition, I am really curious to see how much reading on the iPhone increases not reading speed per se, but reading productivity.
Let's get going.